Ant Control Melbourne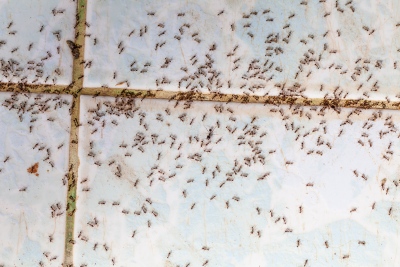 Whilst a few humble ants are relatively harmless, an ant infestation can cause irreparable damage to your home or business when left untreated. With over 1300 species of ants throughout Australia, you should contact an ant removal specialist in Melbourne the moment you suspect that you're under fire.
While most people associate ants with nasty bites (as with bull ants and fire ants), ants can also cause damage to electrical wiring which creates the potential for electrocution or fire. You may also be unaware that certain species of ants also carry disease-causing pathogenic organisms that can instigate dysentery, smallpox, and salmonella in humans; making ant removal a top priority if you begin to notice signs of infestation.
Our Ant Removal Services
At Pestline, we take our ant removal services very seriously and will assess your entire property to ensure there is not more than one colony taking free rent. Typically found in and around the foundations of your walls, as well as roofs, kitchens, gardens, and lawns our ant control team knows all there needs to be known about our tiny little friends that once featured in a hit movie.  This also includes the particular nesting habitats of each various species and how to remove ants without damaging your home. Our licensed technicians can identify the exact type of infestation you're experiencing and then suggest the best means of ant control or eradication using either natural or proven chemical methods.
As strong believers of doing the job right the first time, Pestline only uses superior ant control products that are environmentally safe for children, pets, and plants. All of our treatments come with a warranty that exceeds that of most of our competitors and ensures no damage to your home or office.

Is there anything I can do myself for ant control?
Although most DIY approaches to ant control only work to fight the ants you can see, there are a few things you can do to control ants in your home after  employing the services of a professional. These include:
Cleaning up any food spillages straight away
Rinsing empty containers before disposal
Sealing cracks in windows, walls and doors
Storing food in air-tight containers
Tidying away pet's food at night
Why Choose Pestline For Ant Control?
Besides our extremely competitive rates and vast knowledge of ant control, our pest treatments are carried out by licensed technicians to strict Australian Standards. As part of our commitment to honesty and integrity, we also provide batch or bottle numbers of all chemicals we use, so you can be sure you're getting exactly what you're paying for.
Pestline can also effectively treat a range of common household pest problems including bedbugs, bees, birds, cockroaches, fleas, rats, mice, mosquitoes, possums, spiders, wasps, and even reptiles and snakes. We also specialise in a wide variety of pest control and pest removal services for pre and post-construction.
So whatever kind of premise you occupy in Melbourne, if you have a pest infestation, protect your investment now and avoid costly future repairs with Pestline. Book an inspection online or call us directly for a free quote on 1300 361 646.