Pest Control for Mice in Melbourne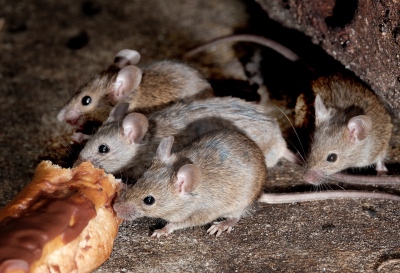 House mice are destructive pests found all over Australia. They cause millions of dollars of damage a year to homes, businesses and farms by chewing through walls and floors, destroying furniture, damaging electrical wiring, and ruining valuable food reserves. Therefore, mice control is a priority for the physical and financial wellbeing of everyone!
While the common mouse trap may take care of them when only one or two mice are in residence, the problem is that they are capable of breeding every single month, so an unchecked mouse problem can quickly become an infestation with disastrous consequences. As such, to protect your investment and prevent damage caused by these pesky rodents, you should look to install mice control and removal solutions as a matter of urgency. 
Mice can also be a health risk. They are responsible for the transmission of leptospirosis, a deadly disease spread through their faeces and urine, so if you have a mouse or rat problem at home, you should seek mice control and removal services promptly for your family's sake as well.
Mice Removal Services
If you're experiencing a mouse infestation at your home or business premises, Pestline can come to your rescue. Our licensed technicians will work out a comprehensive plan for ridding your premises of rodents in the fastest, most effective, and environmentally-friendly way.
All of our treatments are safe for use around children and animals, and all are backed by a warranty that exceeds those offered by most of our competitors. So if mice are creating a problem at your place, contact Pestline now for a mice control solution.

Top mice exterminators at Pestline
Not all pest control companies are the same. Some have been known to charge for expensive chemicals they never use. Others use dangerous chemicals that could be harmful to your health and the environment. Not at Pestline. We offer great value for money and we take your safety very seriously. We use proven chemicals that are environmentally safe and we provide their batch or bottle numbers so you know you're getting  what you pay for. And our rates are among the most competitive in the industry.
We specialize in the control and eradication of all kinds of common household pests and if you're buying or building, we also do pre and post-construction termite inspections and treatments, in compliance with Australian termite management standard AS3660.2.
So why take a chance with a company you don't know? Whether you're a homeowner, a property investor, or a business, if you have a pest problem in metropolitan Victoria, contact Pestline for fast, professional, and affordable pest control. Call us for a free quote at 1300 361 646 or book an inspection online.
Rated excellent by our customers in Melbourne