Possum Control & Removal Melbourne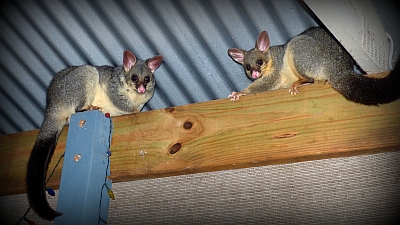 There are around 13 species of large possums in Australia, and most of them are highly destructive in urban living areas. They can do a lot of damage in gardens and backyards, and if they find a way in, they will invade roof spaces, garages, basements, and storage areas in your home or business premises.
And once they're in, possums can be very difficult to remove. They'll defend their territory and defy normal efforts to lure them out, so if you have a problem that requires possum control solutions, it pays to call in the experts to trap and relocate them and to find and seal up the places where they've been getting in.
Pestline can help with Possum Control
At Pestline, we've dealt with possums over many years and our licensed technicians can work out a tailor made plan to deal with your particular problem in a fast, efficient. and environmentally-friendly manner.
All of our treatments are safe for your family and the environment, and we guarantee them with warranties that far exceed those offered by most other pest control companies. So if possums are making a mess at your place, contact Pestline now for an affordable possum removal solution to your problem.

The Pestline story
Over the past few years, Pestline has grown to become one of Victoria's leading pest control companies and there are some good reasons why so many people choose us ahead of our competitors.
We use the very best and most effective chemicals in our pest treatments and we only use those that are safe for the environment and around children and pets.
We provide batch or bottle numbers for all the chemicals we use, so you can be confident you are getting what you paid for.
We use industry best practices in everything we do and our technicians are all fully licensed.
We back our products and our workmanship with longer warranties than those offered by most of our competitors.
We offer competitive rates to ensure everyone can afford our services.
Pestline can deal with a variety of common household pests including ants, bed bugs, birds, fleas, rats, mice, mosquitoes, possums, spiders, wasps, and even snakes. And if you've just bought or built a house and need termite inspection and control, we specialise in that too and are fully compliant with AS3660.2 (Australian termite management standard).
So if you're experiencing a pest infestation, contact Pestline for a free quote on 1300 361 646 or book an inspection online. We're the pest control service you can trust and we cover all of metropolitan Victoria.