Moth Control & Removal Melbourne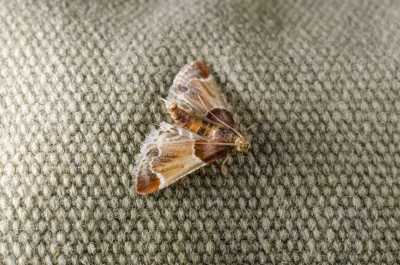 There are thousands of moth species around the world, with about 2500 different species found in Australia.
While the adult moths are not a health risk to humans, some species can be a pest towards your crops. Their larvae can also damage clothes, fabrics, furs, leather and carpets, which is why in the event you find you have an infestation you should seek moth control and removal solutions to eradicate the problem. If you're wondering how to get rid of moths, read ahead.
Why you need moth removal
Moths that feed on fabrics are called clothes moths. Despite there being only 2 or 3 different kinds of them in Australia, they are able to cause significant damage to your clothes.
Clothes moths are very particular about what they eat, concentrating on animal-derived fibres including wools and silks.
They do prefer to target clothes that are soiled or dirty over those that have been cleaned. They flourish and thrive the most in areas where the humidity is high and light is low, sometimes laying their eggs in beds!
It's important to make sure that if you find moths in your wardrobe to also check your pantry, as moths can also infest foodstuffs.

Moth Control Solutions to the problem
Some homeowners resort to DIY moth control remedies, which don't always work as effectively as they should. Proper treatment is often required to completely get rid of moths and to preserve the state of your wardrobe from the damaging effects of these insects. We would suggest giving Pestline a call, as we can handle your moth problem using our effective and safe professional-grade methods. Our experienced team of professionals who understand the habits of these pests will use their knowledge to develop a concrete plan to eradicate the problem, leaving you to enjoy the peace and comfort of your moth free home.
Rated excellent by our customers in Melbourne