Termite Control & Removal Melbourne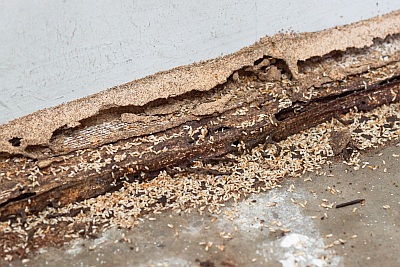 We fight to keep the termites out of business. In Australia termites are referred to as white ants.  They cause structural damage to wooden buildings, fences, railway sleepers, poles, bridges and trees.
They eat the cellulose, starches and sugars found in wooden structures, which make up the structural integrity of most buildings.
Often these infestations are found when the damage has been done, which is why preventative termite control measures should be in place. When they have been discovered in the wall linings, floorboards and skirting boards they would have already caused enough damage to the structural integrity of the building.
Problems associated with termites
Termite nests can be found within metres from your property. Depending of the preventative measures you may have on your property they move across a lot of physical barriers that would normally stop other smaller insects from finding their way into your property.
If you have a suspicion that there may be termites in your area, its important that you give Pestline a call, as an infestation of termites can incur massive problems to the structural integrity of your building.

Our Termite Removal Services
In order to prevent termite infestation there are a number of measures you can take. You can install physical barrier treatments, chemical barrier treatments and monitoring baiting systems.
In order for us to provide you with the best possible service, Pestline can provide you with a complete termite inspection, termite control and management solution which will help us implement one or of our three solutions. Once your inspection has been completed, you are able to choose from the following treatment options.
Chemical barriers will provide a zone of treated soil around the buildings and depending on the type of soil and chemicals exposure, this will have to be replenished within the certain time frame.
Physical barriers can help stop termites from getting into buildings. We encourage installing home guard solutions when building your new home. They can also be fitted to existing house structures as well.
Baiting systems are there to get the termites to collect into one area, congregating upon a monitoring system, which will have a small amount of termiticide in it. Once they have collected in the system they will carry small doses of the chemical back to the main nest and within a few weeks the entire colony should be wiped out.
Our termite control services are 100% effective, as we install the most efficient and up to date steps necessary to protect your property from unwanted termite infestation.
To solve your termite problem simply get in touch with your friendly local Pestline team and we will get one of our most experienced inspectors out to your property as soon as possible.