Termite Treatments in Melbourne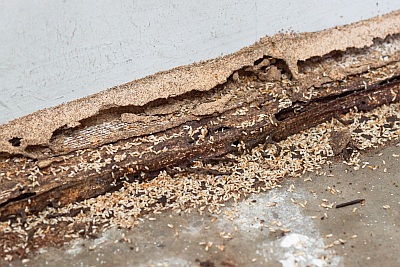 We fight to keep termites out of business. In Australia, termites are also referred to as white ants.  They can cause structural damage to wooden buildings, fences, railway sleepers, poles, bridges and trees – therefore, termite pest control must be a priority! Call Pestline on 1300 361 646 now.
Termites are amongst some of the most destructive household pests in Australia, but they can even also affect the infrastructure of any commercial property as well. As these pesky little insects have stomach enzymes that can break down cellulose, starches, and other natural materials, termites can literally consume the wooden foundations, and even metal insulation or piping in your home. When termite infestations go left unchecked, they can often cause hundreds of thousands to millions of dollars of damage to homes and businesses by chewing through your wood foundations and effectively destroying residential or commercial properties from the inside out- termite inspection is crucial! 
As subterranean termites live deep under or inside the foundations of your property, they can be quite difficult to eradicate or even detect. Most homeowners may not even realise they have a termite infestation until after irreversible damage has occurred, such as cracks in your flooring or even in your walls and ceilings due to deep-rooted structural damage. Termite infestations are best caught early, as subterranean termites have been known to consume around 5kg of wood in a month.
Whilst household bug sprays may help kill one or two on sight, chances are there are dozens or even hundreds more of these pests going unnoticed as they continue feeding and weakening the structural integrity of your property. As a general rule of thumb, the minute you see one termite or even damage caused by termites, you should assume you have an infestation and book yourself a termite treatment.
Termite Inspection Services
If you're a homeowner or commercial property owner and your investment is under risks of procuring damage from termites, Pestline may just be the solution for you. Our licensed termite pest control specialists will work out a comprehensive plan to ensure that your property becomes termite-free in the fastest, most effective methods available. 
In order to prevent termite infestation there are a number of measures that our expert termite exterminators will be happy to walk you through. You can install physical barrier treatments, chemical barrier treatments and monitoring baiting systems.
Our team at Pestline can provide you with a complete termite inspection of your property, followed by the development of a tailor-made termite removal and management plan which will then help us implement one or of our three solutions. Once your termite inspection has been completed, you are able to choose from the following treatment options:
Chemical barriers – these will provide a zone of treated soil around your property or buildings and, depending on the type of soil and chemicals used during the treatment, this barrier will have to be replenished within a certain time frame.

Physical barriers – these can help stop termites from physically getting into your property or buildings. We encourage installing home guard solutions when building your new home to stay proactive when it comes to termite management. Home guard solutions can also be fitted to existing house structures as well.

Baiting systems – these prompt termites to gather into one area, congregating upon a monitoring system, which will be stocked with a small amount of termicide. Once the insects have collected in the system, they will carry small doses of the chemical back to their main nest and within a few weeks, the entire colony should be wiped out.
Our termite control services are 100% effective, as we install the most efficient and up-to-date steps necessary to protect your property from unwanted and greatly damaging termite infestations.
To solve your termite problem once and for all, simply get in touch with your friendly local Pestline team, and we will send our experienced inspectors out to your property as soon as possible.
Termite Removal at Pestline
Not all pest control companies are the same. Some have been known to charge for expensive treatments without delivering on quality. Others use dangerous, unapproved chemicals that could be harmful to your health and have negative impacts on the environment. We do business a little differently here at Pestline with our safe and effective termite removal services.
We pride ourselves on offering a superior termite pest control service without the premium price tag, and we make your safety and the safety of our wider community our number one priority. We use chemical and natural treatments that are environmentally safe, and we provide their batch or bottle numbers so you know just how your next infestation is being tackled.
We specialise in the control and eradication of all kinds of common household pests and if you're buying or building, we also provide construction pest control services, including pre- and post-construction termite inspections and treatments, in compliance with Australian Termite Management Standard AS3660.2.
Why take a chance when you can have security and a quality service guarantee with Victoria's preferred pest control specialists? Whether you're a homeowner, a business owner, or a property investor, if you have a termite pest control problem in metropolitan Victoria, contact Pestline today for fast, professional, and affordable pest control. Call us for a free no-obligation quote on 1300 361 646 or book an inspection online.
If you have a suspicion that there may be termites in your area, its important that you give Pestline a call, as an infestation of termites can incur massive problems to the structural integrity of your building.
For more information on how to detect termites, read our blog too.

Rated excellent by our customers in Melbourne