Domestic Bird Control & Removal Melbourne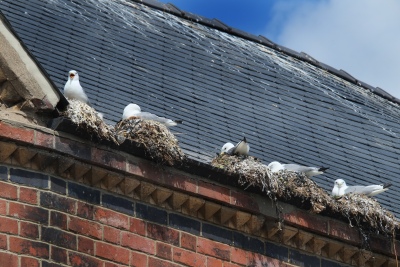 While birds are great to admire from a distance, when they start setting up house in your home or business, they can become a serious problem. They not only cause damage to infrastructure due to their acidic droppings, but they also carry pests and diseases which can be harmful to your health.
Birds carry ticks and fleas, and their droppings contain toxic bacteria which can cause serious illnesses such as fungal lung disease if faecal dust is breathed in by humans. They can also spread diseases such as salmonella, listeriosis, sarcosporidiosis, and blastomycosis.
Because bird habitat is often under threat due to human expansion, it's understandable that they adapt by seeking shelter in our buildings. But the longer they're in residence, the harder they are to remove and a bird removal problem that's left unchecked can cause untold damage and expense down the track.
The Pestline solution
At Pestline, we know what a problem birds can be, and we have extensive experience in controlling and removing them. If you have an infestation that required bird control, then our licensed technicians can work out a treatment plan that is tailor made to your particular situation. It may involve a variety of methods including trapping or erecting physical barriers, but the end result will be no more birds, no more damage and no more threat of disease.
All of our methods are environmentally friendly and safe for people, animals, and plants and we back all of our treatments with a superior warranty that you won't get from most of our competitors.

Why choose Pestline?
The difference between Pestline and other pest control services is that we know about pests. We know how they think and behave and we know that successful pest management is about:
Using the very latest and most effective chemicals on the market.

Making sure that all treatments are safe to humans, pets and the environment.

Always observing Australian standards and employing industry best practice methods.

Making pest control affordable to everyone who needs it.
Pestline specializes in domestic, commercial, industrial, and pre- and post-construction pest control. We're the experts in removing and eradicating pests and we provide competitive rates, professional service, and industry-leading warranties. So if you have an infestation of birds or any other kind of pest, contact us today and we'll be there to fix it fast. Book online or call us for a free quote on 1300 361 646.
Rated excellent by our customers in Melbourne