Bee Removal Melbourne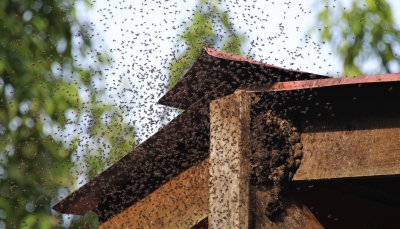 Did you know there are around 1800 different kinds of bees in the world, of which 1400 of them can be found throughout Australia? Setting up colonies anywhere around a home or business, bees are not normally aggressive but can be a cause for concern for parents with children or pets –  in particular, those who are allergic to their stings.
Most common in early spring, the early signs of a bee infestation come from the hearing of constant buzzing noise around your property. If you hear such a noise regularly, you should contact a bee removal specialist to determine whether your property is under attack from a swarm. Colonies breed quickly and a few bees can quickly turn into an army without treatment. Our bee catchers near you can also determine whether the problem is bees or wasps however, as a treatment for wasps is slightly different and more extreme.
If you do have a bee colony at your premises that's causing you concern, you should keep children and animals away from it and refrain from trying to remove it yourself. Instead, contact our specialist team of bee control experts and we'll send a licensed technician to assess the situation and deal with the problem.
Our Bee Control Services
As experts of bee removal and control in for common bee colonies in Melbourne, our bee removal specialists near you will visit your property and recommend a course of treatment, which will normally include the application of an insecticide dust or liquid chemical to the nest or hive area. We only use bee control methods that are environmentally safe for your family, pets and plants and we guarantee our treatments with warranties on all services provided to ensure value for money. We're fast, affordable and eco-friendly.

Bee Swarm Removal Services
Pestline is your first point of call for all kinds of bee control and pest treatments. You name it, our bee catchers and bee removal specialists can control or eradicate it. This includes bee pest control, as well as prevention and removal services for other domestic pests, including ants, birds, cockroaches and fleas. We can even remove foxes if you need us to and if you need termite inspection and control, our procedures are fully compliant with AS3660.2 (Australian Termite Management Standard). It's a full workshop of pest control management here!
As part of our service, we provide batch or bottle numbers for all chemicals that we have used so you know you're getting what you pay for. Our technicians are all fully licensed and adhere to Australian Standards following industry best practices in everything they do.
So if you own a home or business in Melbourne, and need a bee removal specialist, contact Pestline for a free quote on 1300 361 646 or book an inspection online.
Rated excellent by our customers in Melbourne