Mosquito Control & Removal Melbourne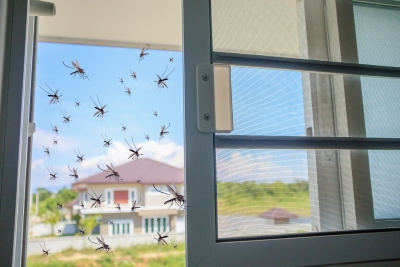 Mosquitoes are blood-sucking insects that are responsible for the transmission of many diseases. We all know how itchy their bites can be – mosquito control is a priority for many Melburnians. There are more then 300 different species across Australia but only a small number of them are of major concern. As a very common pest, they can be incredibly frustrating to eliminate due to their small size as they can be hard to spot. Mosquitoes are among the deadliest insects on earth, which is why it's imperative to deploy mosquito control and removal solutions if you find that you have an infestation in your home.
The male mosquito is generally harmless feeding off mainly plants, but the female feeds off humans or animal blood, which provides the nutrients needed to develop her fertile eggs.
The mosquito strives best in damp and shady habitats, with the female laying her eggs on a large or small surface of water, whether it be on the surface of a bucket of water or on top of a pond.
The problem with Mosquitoes
Mosquitoes will bite you wherever there is bare skin, but they can also pierce through your light clothing to get through to your blood stream. Besides their bite being unpleasant, these insects have been responsible for the transmission of several diseases such as Dengue fever, Ross River Virus disease, Barmah Forest Virus disease and Malaria. As such, the only way to entirely reduce this risk is by installing mosquito control solutions in your home.

Mosquito Control Solutions
In order to help eradicate these blood-suckers from your property and prevent any further infestation, we suggest getting in touch with your local Pestline team to help provide you with a swift and effective mosquito control and removal plan. Our mosquito control program should help prevent any further infestation of the pest in and around your property site.
Rated excellent by our customers in Melbourne