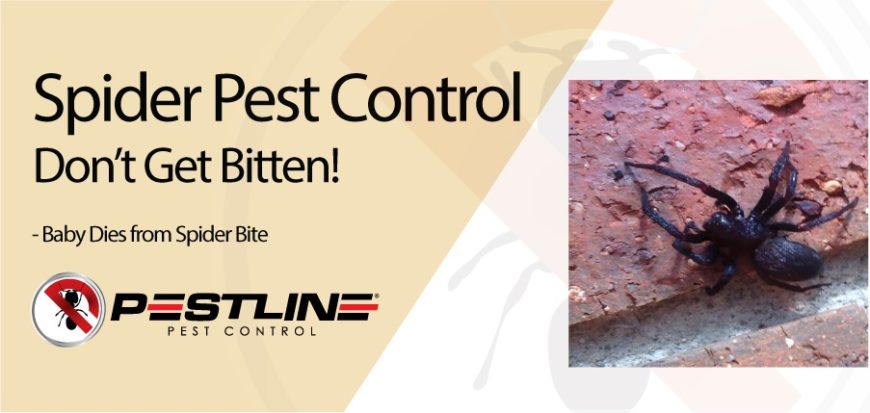 Spider Pest Control – Don't Get Bitten
Spider Pest Control – Recent News
A two month old baby has recently died in Perth, Western Australia after being bitten by a spider while he laid in his bed at home. What can you do to protect your family? Would spider pest control have helped? Read here to find out.
What are the risks?
Australia has over 10,000 types of poisonous spiders inhabiting our homes and workplaces. Many of these have large fangs that inject a toxic venom causing severe pain, paralysis, organ failure, or even death.
For babies, children, people with allergies, or those that are sick, the consequences of being bitten are more often devastating and take hold much quicker. This is because their immune systems are weaker than an average adult human. For this reason, we certainly recommend preventative measures.
Preventative Measures
Spider Pest Control
Having a professional pest controller treat your house or workplace for spiders is a must. Whilst some other preventative measures might help, pest controllers have a licence to use chemicals that specifically target spiders. Is the few extra dollars for professional treatment worth the peace of mind and safety of your home and workplace, or do you take the risk?
As we mentioned above, a two month old baby died recently after being bitten in her own home, a place that most people think they are most safe. The risks are just as existent at your workplace – here's a story of a man bitten on his penis by a redback spider while using the toilet at work. Thankfully, his penis survived, but it could have been much, much worse.
Here at Pestline, we always recommend spider pest control because Australia has some of the most poisonous spiders in the world. Call Pestline today on 1300 361 646 to make your home and work a safe place.